Top Ten NFL Gifts For Babies
What NFL Themed Gifts Should You Buy the Little Ones on Your List?
2014 NFL Season
TV:
Yesterday, we covered NFL gifts for all of the ladies on your holiday shopping list. Today, we're going to take a look at presents for the newest members of your crew. That's right; there are plenty of NFL themed baby gifts to go around this season. This is good news if you're like me and Every. Single. Person. in your life seems to be expecting.
USA TODAY Sports
Seattle Seahawks NFL Infant One Size Baby Bib by McArthur 156990
Y'all, I can't even with these bibs. Chargers and Seahawks styles are showcased, but they're available for all of the teams in the league. New parents can never have too many bibs, so why not help their little one show some spirit at the same time?
This diaper bag is the perfect statement piece for NFL loving families. I've featured the Steelers option, but as per usual, multiple teams are available for purchase. My favorite thing about this bag is that dads don't have to be embarrassed about carrying it. Win-win.
I absolutely love these NFL branded baby bottles. You have a lucky beer stein for tailgating, right? No need to leave the little ones out. Plus, I think we can all agree that it's important to start children tailgating as early as possible.
If a set of bottles simply isn't enough for your favorite infant, consider this NFL gift set that includes a pacifier, a bib, and a bottle. All the essentials for one low price. I'm telling you, you can't go wrong.
I think this blanket looks so comfy, I would use it. So I'm sure any of the babies on your list will appreciate it. It features all of the teams in the league, so it's appropriate for one and all.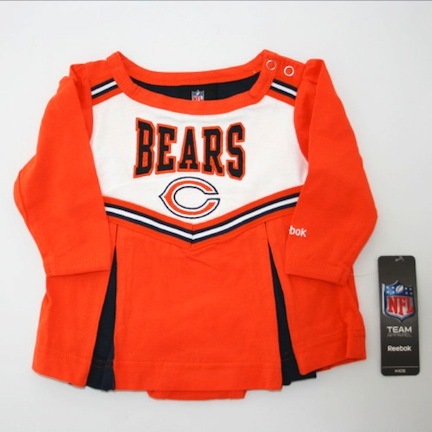 It's super important (in my book at least) to raise baby girls to love football. This little cheerleader uniform is the perfect way to keep her looking cute while making sure that safeties and touchbacks and play action dance in her head…
I can't say that I know from personal experience, but I've heard that bath time isn't a favorite for a lot of infants. This adorable NFL towel is sure to make things slightly more pleasant, though. Grab one for your favorite aquaphobe today.
If you're an infant (which I'm guessing you don't recall, but props if you do), onesies are an essential part of your wardrobe. These are cute, gender neutral, team neutral, and cheap. Can't go wrong.
It doesn't get much more adorable than this teddy bear and bedding set. Every little guy or gal is sure to fall in love with this cuddly toy.
These NFL plush dolls are available for quite a few top players, but the Brett Keisel one (which could double as Sasquatch) is my favorite. It's never too early to start your favorite baby rooting for the right players.