Top Ten NFL Gifts For Kids
Take a Look at the Best NFL Presents For Children This Holiday
2014 NFL Season
TV:
With just two weeks left until Christmas Eve (I know, I can't believe it either), we're back to gift guides on this Wednesday. We've covered the ladies, the babies, and the booze hounds, so today we're going to focus on the kids in your life. Some little ones are born with an innate love of football. They'll love any (or all) of these presents.
USA TODAY Sports
These are the youth version of the official NFL combine shorts worn by players at last year's event. Having a pair of these is sure to thrill any little boy who dreams of playing in the league when he gets older.
I think these pajama pants are just about the most comfy looking things ever. Plus, I love that they can be worn by boys or girls who are NFL fans. I know I would've slept in these every night as a child.
I know, I know…the sleeve blanket thing is a little played out. But still, these are cute for kids who want to support their favorite teams even when they're freezing cold or under the weather. The Bucs blanket is featured, but other teams are available.
I love that this shirt is just for football girls. There are a lot of little ladies who enjoy football, so I think it's great that there are products on the market just for them these days. This would have been on heavy rotation in my closet in my younger years. Or, let's face it, now. I love me some sparkle.
Here's one for all the cool kids on your holiday shopping list. This New Era hat style is a favorite among all the sports-fanatic guys I know, so they're sure to be a hit with younger dudes too.
This gift idea is sure to score a touchdown with younger kids who still enjoy playing dress-up. This outfit includes everything little ones need to mimic the players on their favorite NFL teams on game day (and everyday).
No kid's wardrobe is complete without a youth version of his or her favorite player's jersey. I wore Edgerrrin James growing up, but if I were a child today, I'd definitely have Reggie Wayne in my closet. There are youth jerseys featuring all of the league's best players available. Take your pick!
This would be the perfect gift for any kid who is in the mood to redo his or her bedroom. You know you begged your mom and dad too when you were young. This bedding is affordable and just cool enough for those entering the persnickety tween years. Win-win.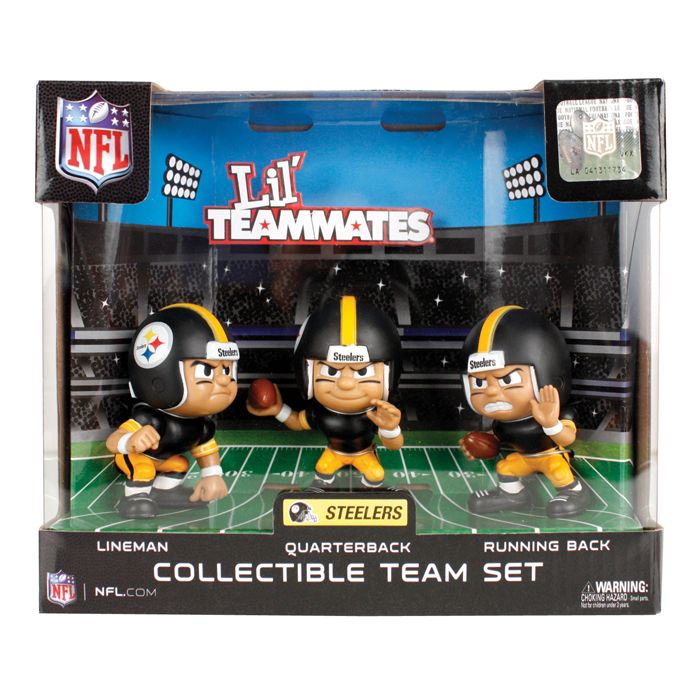 If the kids on your list like collectibles, these Lil' Teammates sets are ideal. They're not breakable so you don't have to worry about them getting knocked over, but they'll still make little ones feel like they're beginning their very own NFL memorabilia collections.
These bears are a little on the pricey side for babies, but they're a great high-end toy option for kids who are old enough to not drool all over them. Plus, they can keep them as collectibles once they grow-up.