Top Ten Gifts For the NFL Fan Who Has Everything
A Look at Gifts For NFL Fans Who Have It All
2014 NFL Season
TV:
TGIF, folks. Today we're going to work our way through our final gift guide of the year. Today's is for the NFL fan who already has everything. You know you've got at least one of them on your list. The guy or gal who just buys whatever he or she wants throughout the year? Yeah, these presents are for those people.
USA TODAY Sports
This would look great on any NFL fan's personal wall of fame. Because even if you're not a Colts fan or a Broncos fan, you understand that Peyton Manning is a living, breathing part of football history.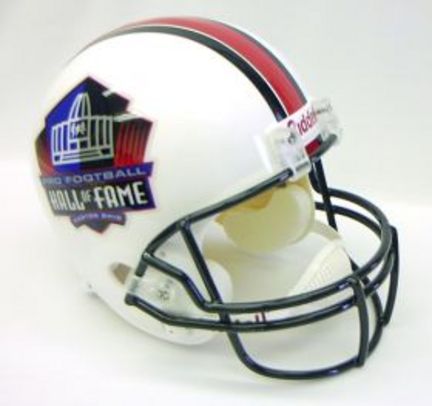 I think this is a pretty cool replica helmet. It would make a good addition to any NFL memorabilia collection and I'm gonna guess that most people don't already have this one.
If your favorite fan-who-has-everything is a jersey collector, one or two of these awesome frames would be a great gift (especially if his or her signed memorabilia is currently sitting in the closet). I know people who've done this. Repugnant, I say.
I mean, I can't think of a reason why one wouldn't want reading glasses featuring one's favorite team's logo. Remember, this is a guide for people who already have everything. They probably don't have these.
How about a personalized print of your loved one's favorite stadium featuring his or her name? I think yes. These are kind of kitschy, but still classy enough to actually hang on the wall.
I feel like this personalized flask and lighter set is the absolute perfect gift for any NFL lover who likes to have a good time. Plus, it's practically a guarantee that a custom team flask isn't already in your giftee's arsenal of game day accessories.
I would love to have a Colts bucket like this, so I'm guessing that fans of other teams are in the same boat. This isn't exactly the cheapest gift set on earth, but that should mean the quality is great. Plus, you can't put a price on making your loved ones happy. Am I right?
This artwork isn't expensive at all and I think it's actually pretty cool. I'd love to hang it above my desk. Remember, though, the frame is everything, so make it nice. Sadly, this isn't a frame guide, so you're on your own there.
Fair warning: Don't buy this unless you're planning to include an autographed ball. Autographed by a player, not by you. Just sayin'.
No picture for today's No. 10 (I know, I know, you only read for the pictures), but tickets to the NFL Hall of Fame's induction weekend are probably the best Christmas gift ever. Ticket packages include everything from a VIP dinner to tailgating with the inductees. Best. Weekend. Ever.